Posted by Megan Petersen on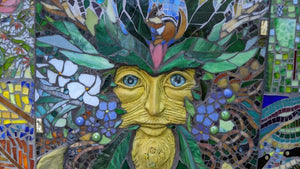 Melrose artist Lisa Tiemann and her dog, Cora, with the Green Man mosaic outside her home, photographed by Amanda Hurley Tiemann spearheaded the community mosaic project for Cedar Park, Melrose, as outlined in this article by Amanda Hurley. A total of 35 artists worked on the project, coming together to create a masterpiece that celebrates human connection to nature. Also contributing to the project are several pairs of brilliant glass eye cabochons from handmadeglasseyes.com. At the center of the mosaic are a pair of large, detailed green and blue glass eyes, offering themselves as a focal point for the whole design....
Posted by Megan Petersen on
This is a beautiful owl mosaic by Jenny Salter of Australia. She completes the project with glass eyes from handmadeglasseyes.com!