Posted by Megan Petersen on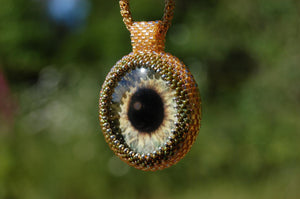 As "crafty folk", most of us already know the importance of maintaining inspiration for our art.  Simply put, it is important to keep a flow of inspiration in the wings in order to keep coming up with ideas and motivation to keep making, especially if making our art happens to be our livelihood. Some of you may even think that the process of reaching constant creativity is complex or even scary. But listen, I want to tell you that it doesn't have to be so. Let me explain what I mean. I'd like to introduce you to Maggie from Nettlebed, United Kingdom. She's a jewelry designer...
Posted by Megan Petersen on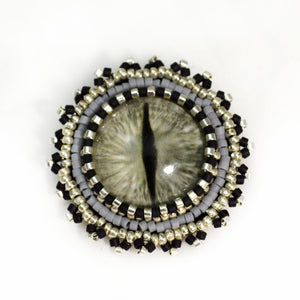 Below are some quick video tutorials on how I make this beaded brooch with this glass eye, black and silver seed beads, stiff felt, and black beading thread. To start, glue your 20mm silver dragon glass eye to the center of a 2 inch x 2 inch stiff black felt square and let the glue dry prior to beginning your project. Follow along with the videos below for next steps. The last step is to glue on a fabric or leather backing to protect your stitching on the backside, and a brooch pin to the center of that. I love it when...