Posted by Megan Petersen on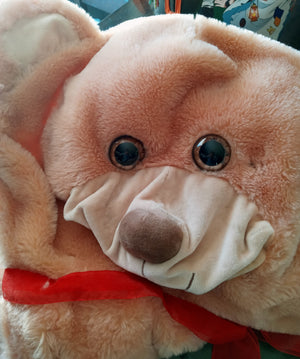 Vicky G., from Waco, TX shared this heartwarming story with us about a rescued teddy bear in an EF3 tornado, which she lovingly restored and returned to its sweet owner. Vicky used the Teddy Bear Plastic Safety Eyes listed on the website. Here is the lucky bears story. "Hi my name is Vicky and my family came up from Waco to help with the aftermath of the tornado. We brought supplies up and were feet on the ground helping Key Heights Baptist Church over a weekend. As we drove around town, our hearts ached...but also was overwhelmed by how your...
Posted by Megan Petersen on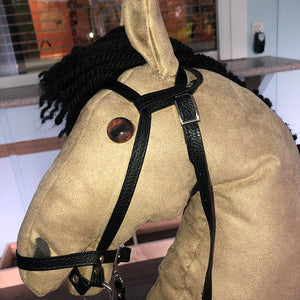 "Great quality glass eyes! I bought these 20mm size for hobby horses that I made for my horse-lovin girls. They really made these hobby horses stand out and personalized. I modeled both hobby horses after their real horses and these eyes were the perfect match!" ~ 5-star review from Jessica Kelley of Jensen Beach, FL⁠. You can grab the realistic glass horse eye cabochons Jessica used for her hobby horses from us here at handmadeglasseyes.com⁠. It's fantastic to see a creative toy maker crafting hobby horses with the realistic and dimensional touch of adding detailed glass eyes. Get 20% off your entire...
Posted by Megan Petersen on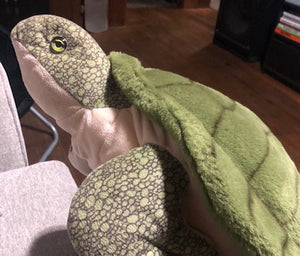 Alexa Frear of Pismo Beach, California needed some new eyes for a plush, stuffed turtle. As you can see from the "before" image below, without eyes the turtle was a bit... lacking. Alex stumbled upon the sew on green sea turtle eyes at handmadeglasseyes.com, and determined that they provided the perfect solution. After applying the 16mm button eyes, the stuffed animal appears much more lively and full of character! You can check out the sea turtle eyes Alex used to restore this stuffed turtle here, or shop all sew on glass eye buttons here.