Posted by Megan Petersen on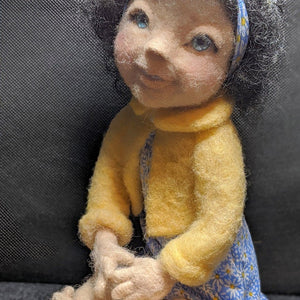 You all know how much I LOVE seeing the amazing and creative projects that my glass eye designs get to be a part of. And when Carolyn Hibbard of Roseburg, Oregon included this picture of one of her sweet needle felted dolls in her review of my mint blue glass doll eyes, I knew I had to share it with you guys. It's amazing to me that my designs get to be included in such lovely, handcrafted pieces. ♥- MeganP.S. You can shop all eyes on wire pin posts for needle felted sculptures right here.
Posted by Megan Petersen on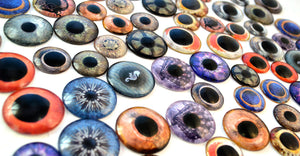 The new summer collection of handmade glass eyes is finally here, and it combines a riveting mix of nautical, vintage, steampunk, and realistic fish inspired glass eye cabochons. This mix of eye designs will take you on a deep sea adventure, complete with magical mermaids and steampunk treasures. Included in the Deep Sea Glass Eye Collection: New Realistic Fish Glass Eyes   Wild Fish Glass Eyes Red Fish Glass Eyes Realistic Bass Fish Eyes Goldfish Glass Eyes Carp Fish Eyes Pufferfish Glass Eyes Barbus Fish Glass Eyes     Vintage Illustration Glass Eyes   Vintage Mermaid and Ship Glass Eyes...