Posted by Megan Petersen on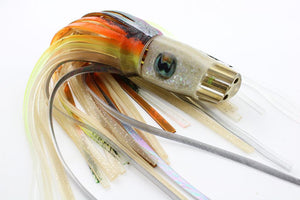 This glowing ivory squid scoop from Big Game Lures is an incredible combination of glowing and flashy iridescent shell materials with a scoop face specially designed to leave "massive, smoking bubble trail." The final detail of this impressive fishing lure are it's realistic, handmade cuttlefish glass eyes. These multi-colored glass eyes give the 9 inch lure the last touch needed to help it preform it's job. What's really cool is that this large big game lure glows in the dark, just like a real squid! You can view this fishing lure at Big Game Fishing Lure's website, here. Or, if you are...
Posted by Megan Petersen on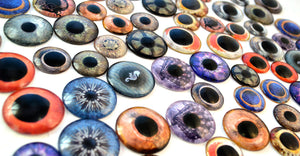 The new summer collection of handmade glass eyes is finally here, and it combines a riveting mix of nautical, vintage, steampunk, and realistic fish inspired glass eye cabochons. This mix of eye designs will take you on a deep sea adventure, complete with magical mermaids and steampunk treasures. Included in the Deep Sea Glass Eye Collection: New Realistic Fish Glass Eyes   Wild Fish Glass Eyes Red Fish Glass Eyes Realistic Bass Fish Eyes Goldfish Glass Eyes Carp Fish Eyes Pufferfish Glass Eyes Barbus Fish Glass Eyes     Vintage Illustration Glass Eyes   Vintage Mermaid and Ship Glass Eyes...